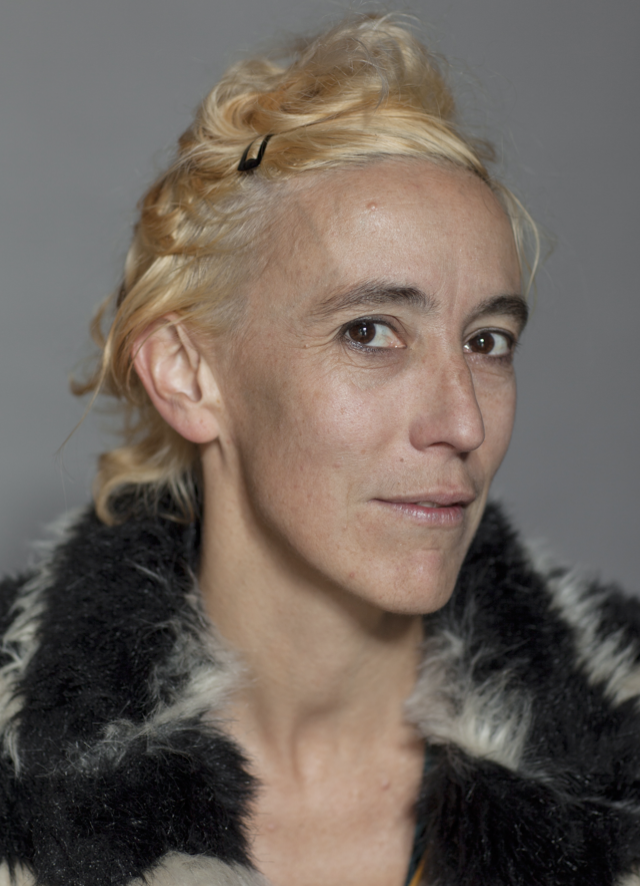 Marta Izquierdo Muñoz was a latecomer to the dance scene after studying psychology in her home town of Madrid. She avidly enjoyed dancing (ballet, jazz, contemporary, flamenco, clubbing) before embarking upon her first personal projects in 2007 and creating her own company [lodudo] producción.
Since performing parts in major productions, especially with Catherine Diverrès(CCNRB) and François Verret, she now steers her projects towards forms that are more restricted (from accompanied solos to trios), touring (France, Spain, Germany, Austria, Japan), and that take the time required to meet.
In the early days of the company, never restricting the creation of good performative images and spaces, the works, contrary to maximising spectacular efficiency, provide an opportunity to experiment with an imaginary world created through the performer, thanks to their strengths and weaknesses. Choreographic material becomes rooted and continues in tangible elements such as words, singing, mud, paper, puddles, beams of light, animals.
Marta Izquierdo's artistic expression is fuelled by two memorable experiences. Marta Izquierdo's artistic expression is fuelled by two memorable experiences. That of La Movida Madrileña (Madrid Movement), the post-Franco countercultural movement (inspired by Warhol's Factory) and experienced from the popular and gypsy district of Carabanchel And the discovery of the original Butoh dance, that she combines with the Spanish 'duende' or spirit, expressed through the body: the spirit of revolt and states of trance unique to Hijikata or, more specifically, a tribute to La Argentina in which Kazuo Ohno rekindles the memory of a flamenco dancer seen years previously, not to imitate or illustrate women, but 'to dance their pain, their feelings and their ecstasies.
The works are formed around the creation of various fixed points, like different performance spaces in which various states of body take shape, often extended by voice work (lyrics or singing). Materials or objects seem to come to life, while bodies and faces stretch and change, to allude to substances or convey ghosts, often in a very frontal relationship with the audience. The points are connected by performative pathways or progressions leaving more room for variations, with a certain degree of freedom in the interpretation.
The choreographic expression can be described as a palpable dance characterized by various changes in dynamics and quality of motion: from extremely slow to very fast, up to states close to trance; a combination of fluid and jerky; from detailed work to bulk gestures.
Just like her predecessors from La Movida Madrileña, the New York Factory and the Tokyo Angura movement to which she dedicated part of her research, she is particularly interested in revealing the complexities concealed behind the stereotypes produced by popular culture. If everything, stripped of its ostentatious appearance, is potentially open to ridicule, it is often difficult to dissociate comic from tragic. The basis of her approach is not nihilism, but humanism in all its forms.
Her first creations are the result of regular (Samuel Pajand, Frans Poelstra, Mark Tompkins, Judith Cahen) or occasional (Norico Sunayama, Junko Fuchigami, Jean-François Pauvros) artistic collaborations, polymorphous musicians and performers, chosen for their ability, not only to span several genres or artistic disciplines but also, to reinvent themselves each time in a new form. The meeting often becomes a means to destabilise each other by decontextualising the work in contact with the other, in a perpetual play between real and constructed identity.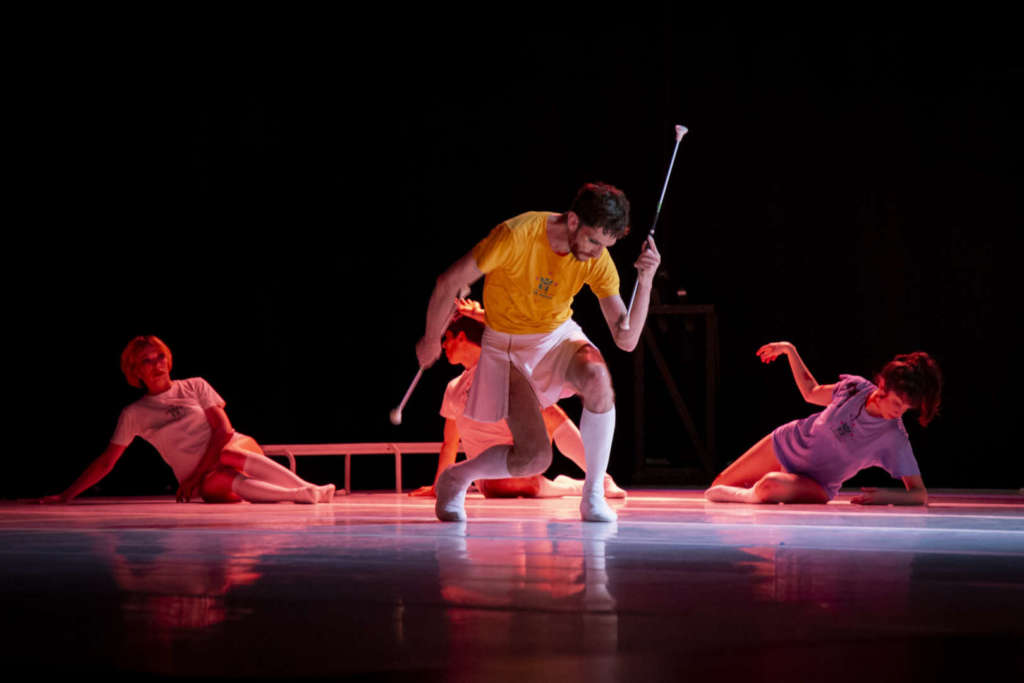 Her work mainly focuses on female figures torn between the margins and mass culture.
She is in fact interested in representations of women in popular culture and more specifically in the contrast between the ideal, smooth and formatted model proposed by American productions and the recycling of this image on a local and individual scale, like She's Mine, My name is Britney Spears, or IMAGO-GO, centred on the figure of the majorette. Thus decontextualized and de-territorialized these products of the American myth reveal the flaws, the singularities, of the sensitive: of humanity.
In addition, Marta Izquierdo has often gravitated towards ambiguous female characters, torn between the need to conform to certain social norms and artistic practices which place them de facto on the fringe. She also examines the notion of family and community in varying degrees of dysfunction in the diptych IMAGO-GO (2018) and GUÉRILLÈRES (2021).
In more recent creations, the work moves away somewhat from the performative vein of the beginnings towards group pieces with sharp choreography, for which she is accompanied by a choreography assistant (Éric Martin).
There is also a desire to turn to various specific choreographic expressions. Admirando la cheikha (2015) is inspired by Moroccan hair dances; Practice Makes Perfect (2017) stages group folk stick dances; IMAGO-GO (2018) looks at the vocabulary of majorettes and twirling batons.
Undoubtedly echoing a social reality that becomes more severe year after year, the theme of combat emerges in several of the company's recent projects.
Sometimes it is a question of channelling excess energy into a healthy artistic emulation like in the Krump battles held by the company in the northern districts of Toulouse (Rize your Krump, 2017, Centre Culturel de Lalande). Or even more so in the ALL STYLE laboratories laboratories developed throughout the 2019-2020 season which brought together a wealth of experienced dancers (amateurs and professionals) from dances as varied as popping, classical and contemporary dance, modern jazz, flamenco, voguing, Occitan or traditional Malian folk dances…The grande finale, in addition to a choreographic form that brings all the different styles together, resulted in a memorable battle of all styles, devoid of any competition in which over 300 people participated.
The theme of battle is also present in the company's next two creations: GUÉRILLÈRES, about fictitious Amazons or guerrilla warriors and DIOSCURES, a Titan duo.
Lastly, themixing of registers is also at the heart of several pieces, from the first to the last. Therefore, as early as 2008, the critic Rosita Boisseau wrote in Le Monde regarding She's Mine: 'Marta Izquierdo Muñoz is a true comic who could drag us into a tragedy. Except that she decided to come out on top.' In GUÉRILLÈRES, you constantly switch from one register to another: from satirical to lyrical, from comic to tragic, from realism to fantasy.
Marta Izquierdo Muñoz, holder of a State Diploma in Dance, develops her educational activities like an extension of her creative work.